Think that aircraft seat pitch can't get any tighter than 28 inches? Think again. Ultra slimline economy class seat concepts under development by Zodiac Aerospace could accommodate a 27-inch seat pitch, and are targeted at the short-haul market.
The manufacturer's latest innovation in seat geometry appears to be particularly well timed. Airbus is looking to have its A320 recertified for a maximum load of 186 passengers, six more then the current maximum of 180 seats, as reported by Aviation Week.
Could the European airframer accomplish its goal of adding a row of seats to the A320 by simply pitching super slimline seats at 27 inches, and perhaps employing its Smart-Lav modular lavatories? The answer is not immediately clear, though we know Airbus believes seat width plays a far more important role in passenger comfort than seat pitch.
What is clear is that Zodiac is already prepping for the prospect that higher-density aircraft configurations are in the offing. The seat manufacturer unveiled three new forward facing seat concepts at the Aircraft Interiors Expo in Hamburg.
Two of the three designs were pitched at 27 inches, even though a 28-inch pitch has traditionally been considered an informal bare minimum standard in the industry. Zodiac executive VP communications and investor relations Pierre-Antony believes the seats could pass certification at 27-inch pitch because the requirement is not about inches, but rather "the ability to debark the aircraft very quickly".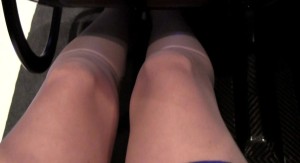 A third design, a carbon-fiber composite seat known as L3, was displayed in a 28-inch pitch, and is now being offered to airlines. Developed in partnership with Hexcel, L3 is "quite advanced with our certification process", said Vastra.
Obviously, there is a big difference between trying a seat for a few minutes on a trade show floor and sitting on them for a few hours in-flight. Noted travel analyst Henry Harteveldt says he is concerned that airlines would adopt ultra-slimline seats for aircraft that fly medium-haul or even longer. "Particularly for airlines that service North American and European markets – where there is an aging population on flights of four or five hours or more – you need to provide a certain amount of lumbar support for comfort, and the thinness makes me wonder can you support what passengers want to have in terms of comfort and, for instance, use your laptop in a reasonable manner?"
He says his primary concern, however, is safety. "They have to stand up to 16G testing; that takes a certain amount of strength. And then my concern is egress from the cabin. Can you get a plane packed at 27-inch pitch through the number of exits? The question is – will they be able to get across that hurdle?"
Yet, it seems the only thing that may be holding airlines back from adopting 27-inch pitch on the A320, specifically, is the fact that the aircraft is certified for a maximum load of 180 seats. "The A320 has an exit limit of 180, and you don't even have to go to 27 inches" to achieve that, Lufthansa Group executive VP fleet management Nico Buchholz told journalists at a media briefing in New York late last year.
Aviation Week reports that in order to win an order for 30 A320s and 32 A320neos from Spanish operator Vueling, Airbus had to promise to be able to fit 186 seats in the cabin, though Airbus and EASA have been tight-lipped about how that will be achieved.
In addition to certifying the A320 for 186 seats, Airbus is developing a new overhead bin solution for the narrowbody, as first reported by Runway Girl Network. An Airbus operator tells us it had seen Airbus' pivot bin concept, and that it represents a significant improvement to the onboard experience because it opens up the cabin.
Like the Boeing 737NG's Sky Interior, a new pivot bin on the A320 may give passengers a sense of more space. But at the end of the day, we know we're a hair's breath away from being stacked like cordwood in-flight.

See Zodiac's new seat concepts in the video below. Note that I am just shy of 6ft tall.